According to an official announcement made by the company, the HUAWEI Mate 50 series will be unveiled at the new product autumn conference to be held on September 6, 2022. The theme of the conference will be "Getting out of the morning, meeting at the summit".
An additional poster was also shared, and it is quite possible that the golden ring on the shared image will become the most noticeable feature of the camera module found on the back of the HUAWEI Mate 50 Pro, similar to the Mate 40 series. Recently, HUAWEI also introduced HarmonyOS 3 operating system.
It is important to note that this will be the first smartphone launch after a two-year sabbatical from the Mate series of smartphones. This is due to the fact that HUAWEI last released its Mate 40 series in 2020.
The consumer flagship, on the other hand, has given customers reason to believe that the upcoming HUAWEI Mate 50 series will showcase some incredible technologies at the annual flagship launch event. In addition, he spoke about the company's challenges in building this flagship item over the past year.
Additionally, HUAWEI's Mate smartphone is celebrating its tenth anniversary this year. HUAWEI formally assessed the ten-year history of the Mate.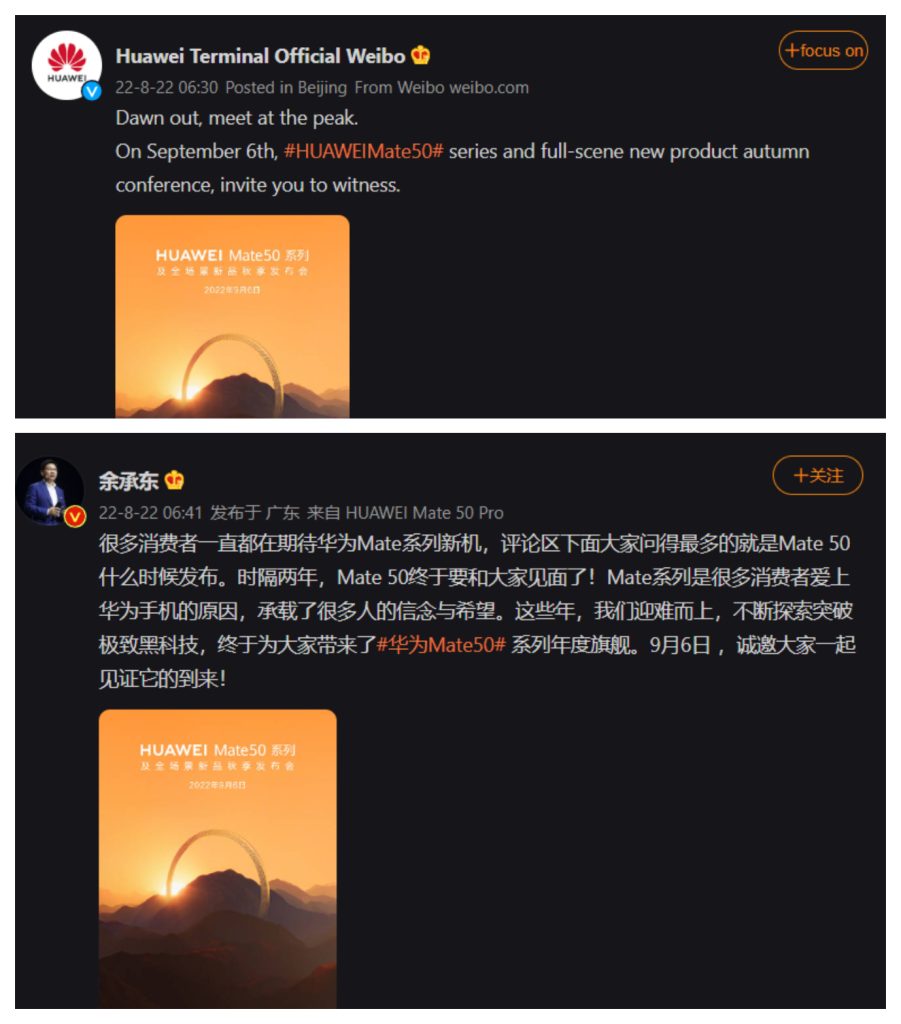 Although HUAWEI has not yet revealed any information about the features and specifications of its next smartphone, there will undoubtedly be a lot to learn in the coming days.
Yu Chengdong, CEO and Head of Smart Car Business, Huawei Consumer Business Group, said,
Many consumers are waiting for the new Huawei Mate series and the most asked question in the comments section is when the Mate 50 will be released. Two years later, the Mate 50 is finally going to meet you! The Mate series is the reason why many consumers fall in love with Huawei mobile phones, and it carries the trust and hope of many.

Over the years, we have overcome difficulties, constantly searched for and broke through the ultimate black technology, and finally brought you the annual flagship of the #HUAWEIMate50# series. On September 6th, we sincerely invite everyone to witness its arrival!