The Indian traditional PC market, which includes desktops, notebooks and workstations, delivered another solid quarter (April-June 2022), according to new records from the International Data Corporation (IDC) Worldwide Quarterly Personal Computing Device Tracker. 3.7 million units with a year-on-year (YoY) growth of 17.8%. Earlier, global PC shipments declined 15.3% year-on-year in the second quarter of 2022.
Last quarter's spillover orders boosted the government segment, but other segments are weakening and channel inventory is rising. While notebooks remained the volume leader with 2.6 million units, their growth rate slowed to 7.3% YoY from around 30% YoY in the last three quarters. The desktop category shipped over one million units for the second straight quarter.
PC demand was strong during April, but declined as universities reopened in 3Q22. Due to order delays, the Enterprise segment grew 14.9%, slower than the previous three quarters of growth. Similar to the growth of SMBs, decreased demand led to an increase in channel inventory.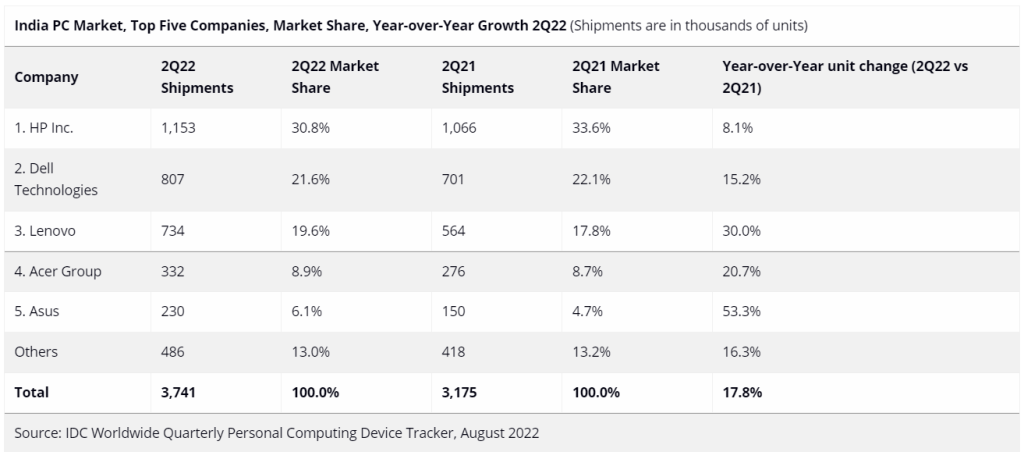 Top 5 Company Highlights: 2Q22
HP shipped 1.15 million units and led the PC market with 30.8% share in 2Q22. While its consumer share declined somewhat, it remained the segment leader.
In 2Q22, Dell Technologies stood second behind HP with 21.6% market share and 15.2% YoY growth. While it retained a 27.1% share of the commercial market, its consumer performance declined. With a 39.7% market share and demand from across the globe, the company rules the market for business laptops.
Lenovo ranked third behind Dell in 2Q22 with 19.6%. The seller's consumer segment expanded 38.8% year-on-year, but its commercial business slowed due to late orders. Vendors grew 51.8% year-on-year in the SME segment, second only to HP.
Acer Group is losing ground, yet had 8.9% of the market in 2Q22. It grew 66.7% year-on-year on commercial desktops. The company ranks sixth in the consumer segment after Apple with 3.8%.
ASUS expanded 53.3% YoY in 2Q22 to remain at the fifth position with 6.1% market share. Offline growth has helped the brand grow over 50% year-on-year in the consumer market for two straight quarters.