Harman has launched the JBL Partybox 710, Partybox 110 and JBL Partbox Encore Essentials, the company's latest high-power audio systems for an immersive audio experience at home or at a party. These Partybox speakers come with powerful JBL Pro sound technology, IPX4 splash resistance, mic inputs and more. Let's take a closer look at these speakers.
JBL Partbox 710: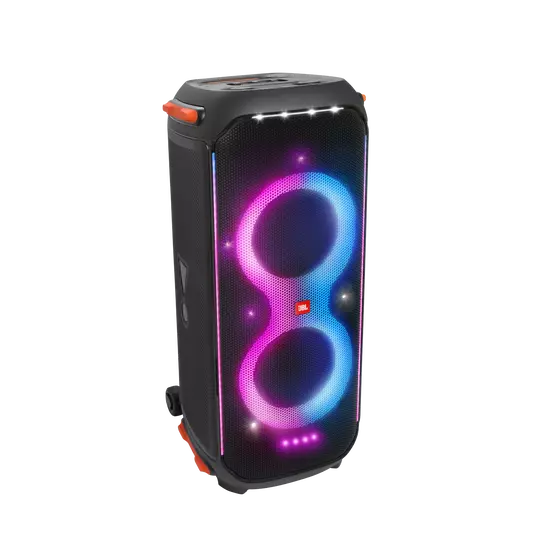 The Partbox 710 features a dynamic, colorful and customizable lightshow with five different lighting styles that combine and sync with the JBL Pro Sound's massive 800 watts. Its dual 2.75″ tweeter and 8″ woofer, coupled with its tuned bass reflex port, deliver accurate audio. True wireless sound pairs two PartyBox 710s in seconds for even more crowd. And, with the easy-to-grip handle and sturdy wheels on the speaker, you can take the party anywhere.
Key Features of JBL Partybox 710:
Powerful JBL Pro Sound with 800W RMS Output
Rugged wheels and handles to take the party anywhere
Color running strobe, figure of 8 RGB animations, bright light show to the beat of music with color projection light, starry light and club light
2 x 2.75" low distortion tweeters, 2 x superior high sensitivity 8" excursion drivers and improved bass reflex port for stronger and deeper bass
IPX4 splashproof
guitar and mic input
bluetooth or usb input
One-Touch True Wireless Stereo: At the tap of a button, wirelessly link two together for a huge, stereo sound
JBL Partybox App: Control your party from your phone: switch tracks, customize lightshows and more
JBL Partybox 110: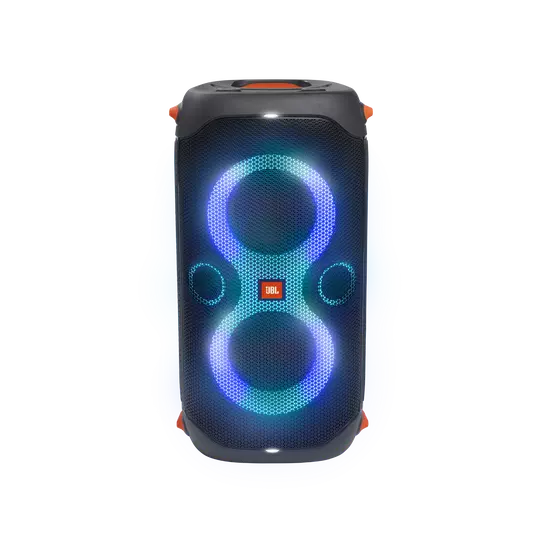 The JBL Partbox 110 is a splash-proof portable party speaker with a powerful 160W of sound. It has adjustable deep bass and two levels of powerful JBL Original Pro sound. The speaker has a built-in rechargeable battery and 12 hours of playtime. The Partybox 110 has mic and guitar inputs, and you can control, customize and update this speaker's settings using the JBL Partbox application.
Key Features of JBL Partybox 110:
Powerful JBL Pro Sound with 160W output with angled-back design for superior sound projection
12 hours of battery life for ultimate portability
Dynamic light show synced to the beat of the music
guitar and mic input
IPX4 splashproof
bluetooth or usb input
True Wireless Stereo: Wirelessly link two together for even bigger, stereo sound
JBL Partybox App: Control your party from your phone: switch tracks, customize lightshows and more
JBL Partybox Repeat Required: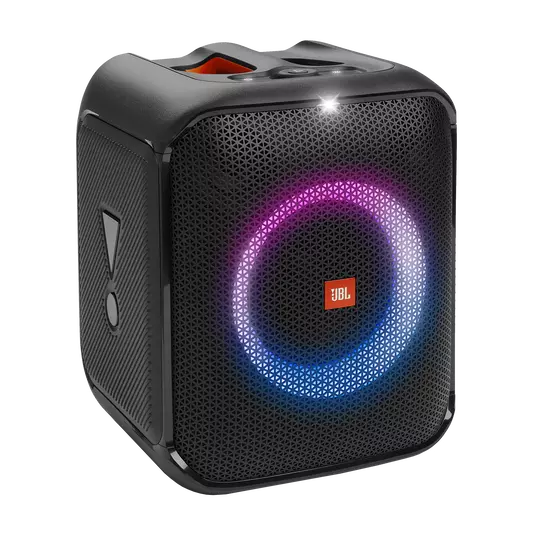 The Partybox Encore Essential is a portable party speaker with powerful 100W sound, a built-in dynamic light show, and a splash-proof design. It offers a dynamic light show delivered with fun ring lights and a cool strobe effect that syncs to the beat of your music. JBL has promised 6 hours of play time for this speaker.
Key Features of Partybox Encore Essential:
JBL Original Pro Sound
100 W Output Power
Signature JBL Partybox Lightshow+
6 hours playtime
IPX4 Splashproof
Wireless Bluetooth Streaming V5.1
Playback from USB and aux-in input
1x Wired Mic Input
True Wireless Stereo Connects 2 Speakers Together For Stereo Sound
Compatible with Partybox App
Pricing and Availability:
The JBL Partybox 710 is priced at Rs. 64,999, Partybox 110 priced at Rs. 31,999, and Partybox Encore Essentials is priced at Rs. 24,599 in India. These speakers will be available in all leading companies online and retail stores.
Commenting on the launch, Vikram Kher, Vice President, Lifestyle Audio, Harman India said,
As the market leader in party speakers, we begin this festive season with our JBL Partybox line of speakers. Speakers bring to life house parties and celebrations with exceptional realism, and they have a sophistication and musicality that draws listeners into the groove. They permeate every aspect of emotion, every musical signal, from the tiniest micro-detail to the physical effect of the most thundering crescent moon.